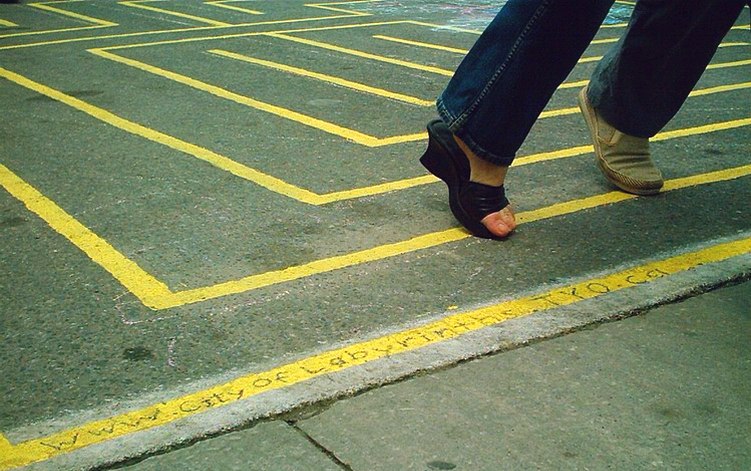 UPDATE – March 2018:
Who am I kidding?
…This is now "Vancouver and Toronto City of Labyrinths Project".

UPDATE – July 2016:
HiMY SYeD is presently in Vancouver.
With each passing day, this project is increasingly inaccurately named "Toronto" City of Labyrinths.
Like Banksy's various "Residencies" the world over, until further notice, "City of Labyrinths" is now in Residency in Vancouver.
What does Residency mean exactly?
It means People living in Vancouver are about to get a LOT more Labyrinths.
I have considered it, and that is why I used it

I hope you are enjoying Vancouver. My daughters walk your labyrinths in Bellwoods and elsewhere all the time. You left us an amazing gift. Thank you.

— Bryan Leblanc ⭐️⭐️ (@bryan_leblanc) April 22, 2018
---
---
Toronto City of Labyrinths is HiMY SYeD's Project to create a Labyrinth within walking distance of every Torontonian.
Labyrinths are both Temporary using chalk or Semi-Permanent using stones in the natural environment or by painting them on paved surfaces like wading pools in city parks.
Volunteer Labyrinth Makers at times step up to help out, while neighbourhood kids satisfy their curiousity by painting an arc or two.
Toronto City Councillor Mike Layton calls HiMY SYeD, "Toronto's Labyrinth Master"…
RT @LorettaRyan Amazing re-use off-season wading pool: Labyrinth at Christie Pits https://t.co/iu7jlrcWTX #TOpoli pic.twitter.com/fv9s9zzOoT

— HïMY SYeD 🍥 City of Labyrinths Project (@LabyrinthsDOTca) February 29, 2016
RT @karim_romero HIMY SYED has been painting #Labyrinths most of #PSKensington of Past 6 yrs http://t.co/g3Mbj5QSzp pic.twitter.com/VhUKI5Ncop

— HïMY SYeD (@HiMYSYeD) July 1, 2014
Labyrinths also make appearances in public spaces during events such as neighbourhood street festivals all the way to larger city events such as the monthly Pedestrian Sundays in Kensington Market, or annual events like Afrofest, Big On Bloor, and OpenStreetsTO.

@OpenStreetsTO Talking to @HiMYSYeD about many topics as we watched people walk one of his labyrinths on Bloor.

— Jim Cappio (@jamescappio) July 14, 2016
Thus far, Dozens of Labyrinths have been created throughout Toronto.

RT @DougSaunders: Guy who paints #Labyrinths all over City talks abt his craft. This one based on Chartres pic.twitter.com/d41kudHQnJ #JanesWalk

— HïMY SYeD (@HiMYSYeD) May 3, 2014
RT @DougSaunders: Now everyone's walking one of his larger ones (in the rain). He's painted more than 80! pic.twitter.com/HOvjulc1cq #JanesWalk

— HïMY SYeD (@HiMYSYeD) May 3, 2014
Labyrinth-painting guy who gave the great #janeswalk talk is @HiMYSYeD — look for his works!

— Doug Saunders (@DougSaunders) May 4, 2014
TO's labyrinth master @HiMYSYeD speaks to Parks & Environment cmt today. I see kids walking his labyrinths at Christie Pits daily.

— Mike Layton (@m_layton) January 16, 2014
RT @hyfen @HiMYSYeD with his rotary labyrinth pic.twitter.com/C87ZuEFI1d // Thank You Andrew! #PedestrianSunday #KensingtonMarket #Labyrinths.ca

— HïMY SYeD (@HiMYSYeD) September 29, 2013
Thanks @HiMYSYeD Just walked off my dinner through your Christie Pits labyrinth.

— Michaela Cornell (@mcpublic) October 8, 2010
@LabyrinthsDOTca @stevepurf I pass through there often and the little kids put it to good use. Thanks for making it.

— VeloVegan (@VeloVeganTO) November 16, 2015
@HiMYSYeD I absolutely adore what you do.

— FuzzyWuzzy (@_Confessor) October 12, 2013
@HiMYSYeD sad I'll miss you! Waking down now, I greatly enjoyed your beach labyrinth this summer Btw, thank you for it!

— Sean K (@seankillackey) September 18, 2011
@HiMYSYeD Was at Dovercourt Park community BBQ today and noted Himy's labyrinth in popular use there. Thanks from #ward18

— KEN WOOD (@KenWood_ward18) July 16, 2011
@HiMYSYeD My son and I love your labyrinths.

— Victoria Wells (@vwells80) July 25, 2010
@HiMYSYeD thank you. Love walking that labrinyth!

— Cat Bean L (@2freckledcutie) July 20, 2012
"Thank you Himy for your kindness and artistry,
I'm sure you make a lot of people happy with your Labyrinths all over the city."
Thank-You to @HiMYSYeD for the "Unofficial Labyrinth" in our local Fairmount Park splash-pad..!

Good to see a little Maze-Runner enjoying it in the Sunshine.

Sometimes the BEST things in #ParkTO break the rules a little. 🤫https://t.co/9vefXjHjaa pic.twitter.com/vBhms9yraM

— Mark J. Richardson (@mjrichardson_to) 14 May 2018
The various labyrinths of @HiMYSYeD have, collectively, kept my kids busy for many hours over the years. pic.twitter.com/8jmMq4aAE8

— Gil Meslin (@g_meslin) July 24, 2019