Ping, a grade 12 student in her final semester at Central Technical School, walks the Central Tech Labyrinth.

Problem Child.
If we live long enough and are blessed with many children, sooner or later, we will encounter one.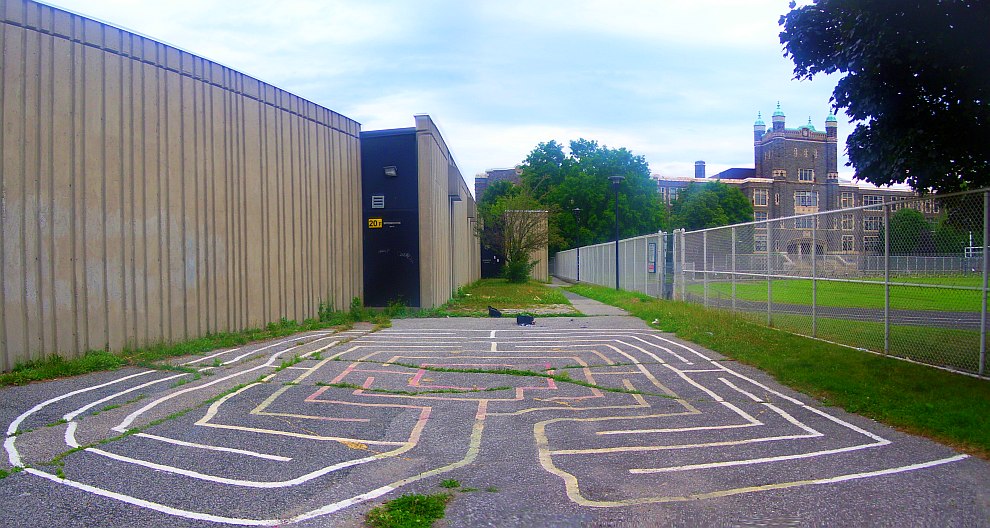 This one, a long overdue labyrinth, which I had spied in my mind's eye in this interstitial space since grade 13 two decades ago, unexpectedly became my Problem Child Labyrinth.
It was a puzzle in itself. Why did I take so long to place a labyrinth here?
Had I some inkling of how frustrating it would be to create?
This second longer video shares a bit of the frustration, and nauseousness as we walk the path, experienced during the weekend.
The first video finds me recording Ping, as she walks the Central Tech Labyrinth on Monday during her lunch hour.
Afterwards, Ping shared with me she thought it worthwhile to place the Labyrinth exactly where it was.
Seems there may be someone out there for everyone.
…or even, for every labyrinth.