This is one of two Labyrinths left along The Seawall surrounding Stanley Park. They are my gifts to the People and City of Vancouver before I leave for home.
This labyrinth is located three fourths the distance between the Lions Gate Bridge and Siwash Rock which you can see in the distance.
For one full month I have been here in Vancouver, first to attend the United Nations' World Urban Forum 3 followed separately by the World Peace Forum on the campus of University of British Columbia.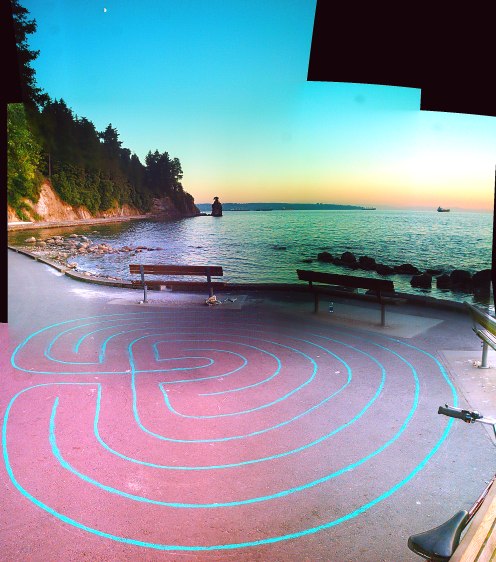 Often after the day's events, I enjoyed biking or walking the entire nine kilometer length of the path affectionately known by locals as The Seawall.
Along The Seawall are a number of half moon shaped observation points with benches facing the Pacific Ocean.
With each trip past each of those observation points, The Seawall whispers to me grew, Siren-like, to leave a labyrinth or two or three before leaving.
A few days ago, I found myself in a hardware shop along Vancouver's famous Commercial Drive mixing tints. The colour of the paint needed had to find balance between the blue of the ocean and the green and grays of the trees and rock cliffs of Stanley Park.
Passers-by all seemed to appreciate this new addition to The Seawall.
I ran out of both paint and time for a third Labyrinth just east of the Lions Gate Bridge. Next time I'm in Vancouver, hopefully I'll complete this trilogy of Left Coast Labyrinths.