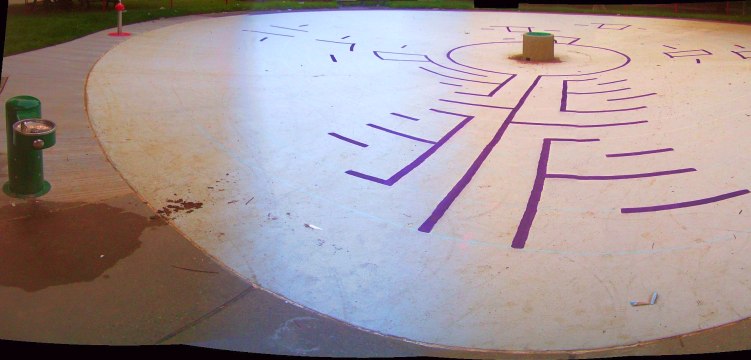 This is the first labyrinth I had painted since before the TOStrike began near the end of June. The Christie Pits Park wading pool was renovated just in time to coincide with the beginning of the TOStrike.
A new splash pad feature has been installed by the private park contractor. It's a red button thing that kids can press, and for anywhere from 30 seconds to three minutes in length, like magic, water gushes into the air from the four or five hidden water jets.
A new green metal designed water fountain also replaces the old school pebble design. It sorta matches the metallicness of the splash pad red button thing.
The above photo shows the labyrinth painting in progress from Saturday afternoon.
Elsewhere in the Park, the garbage was being removed from the ice rink. The rink had served as a temporary garbage drop-off and open air landfill. The Friends of Christie Pits Park had opposed the use of any part of the park as a temporary dump site.
Painting this particular labyrinth was and will remain my way of privately healing the lingering effects of the garbage dump upon park people and the park itself.