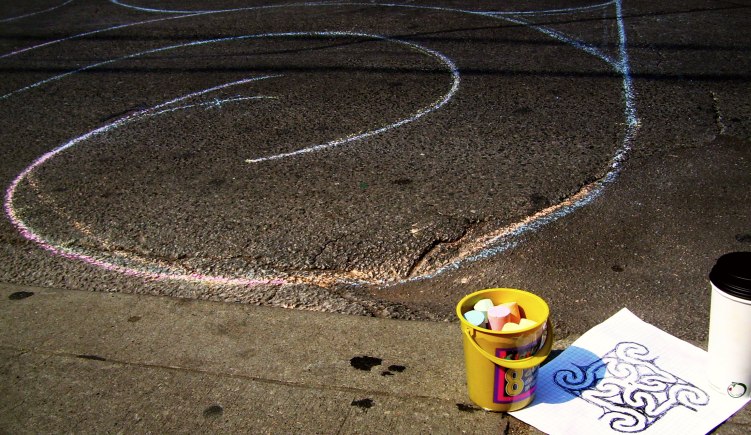 Pedestrian Sundays – Blackout Anniversary Car-Free edition.
August 16, 2009, 12 p.m. – 10 p.m.

Streets Are For People present Pedestrian Sundays marking the 6th Anniversary of the Blackout.
For the sixth anniversary of the memorable day when we all realized that we consume too much, we will celebrate by turning the lights out!
All acoustic music, kid-powered fun, and community meals are what make remembering the blackout such a delight.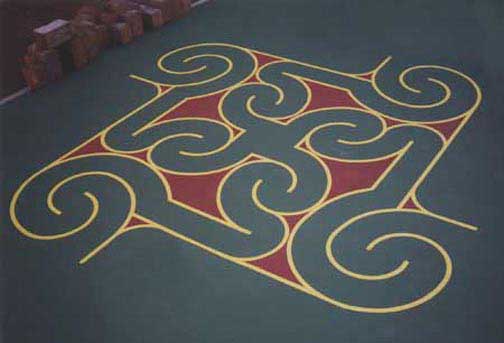 This pinwheel design is painted on a tennis court surface in the middle of a playground in San Francisco's Chinatown.
As a game – Four people, at their own entrance, race to the centre where they must leave by another route without touching anyone.
First one out wins.
This afternoon in Kensington Market on North Augusta Avenue, a re-inspiration of this pin-wheel labyrinth design will find its way on to North Augusta Avenue.
And pedestrians, four at a time, will be invited to play The Game.
Beyond sunset, the pin-wheel will be illuminated with candlelight luminaria to mark the sixth anniversary of the 2003 Blackout.

Late last night and very early this morning was invested in chalking out the pin-wheel design, which you can see in the photo up top.
The design is currently laid out in chalk on North Augusta.
I quickly popped back home for a quick shower — the humidity has everyone soaking and it's still an hour til mid-day — and to quickly blog this note.
Hopefully you can make it out to P.S. Kensington this afternoon to play the Pin-Wheel Labyrinth game.
See you in the Streets!